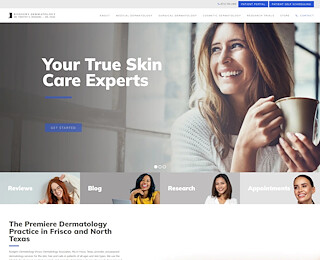 Are you looking for a professional acne dermatologist in Frisco? Consider Rodgers Dermatology for your treatment. Dermatologist Timothy Rodgers offers Microdermabrasion for acne that is a superficial exfoliation process used to remove the dead, outermost layer of skin, leaving new cells that are soft and smooth.
Microdermabrasion is often used to treat or diminish acne, blackheads & whiteheads, fine lines & wrinkles, sun damage skin, superficial age spots, hyper-pigmentation, oily skin, dry skin and patchy skin. To start, a series of 5 treatments every 1-2 weeks is recommended, followed by monthly treatments to maintain the results. Rodgers Dermatology can help you achieve the beautiful, healthy looking and smooth skin you want to have.
There are numerous benefits of having your acne treated by the most popular dermatologist in Frisco. Consider a few of them and then call Rodgers Dermatology for more information:
- Microdermabrasion only treats the outermost layer of skin, thereby dealing with flaws at the surface level, meaning it is non-invasive, making it a very popular treatment.
- Patients really appreciate that microdermabrasion is a painless treatment. No anesthesia is necessary for the treatment at all. Some patients report feeling a scratching or mild stinging or vibration. After treatment, the skin may look pink and slightly swollen, however, these effects will quickly diminish, typically lasting a few hours to one day. Treat your skin to a recommended moisturizer and protect it from the sun as much as possible.
- Microdermabrasion is quick, usually taking about an hour or less, depending on the area to be treated. While you may need several sessions to achieve the results you have in mind, you can consider microdermabrasion to be one of the easiest treatments to undergo. Many patients require only 2 initial treatments, followed by a once a month maintenance.
- Microdermabrasion is effective for a wide range of skin conditions, including acne. A single treatment is often all that is necessary if a special event is upcoming and you want to look your best.
- The acne dermatologist from Rodgers Dermatology in Frisco has experience in microdermabrasion with exceptional results. It is considered to be much safer to have the treatment performed by a cosmetic surgeon such as Dr. Rodgers rather than at the hands of a spa or a salon that does not offer the benefit of providing medical oversight. This means microdermabrasion is safe and effective in the Frisco facility.
Rodgers Dermatology is proud to offer online visits for a very affordable price. For your convenience, you can now go to RodgersDerm.com and click on the 'Online Visit' link at the top of the home page where you will be quickly taken to a page where you can schedule your own online visit with Dr. Rodgers. The Virtual Care visit mirrors the in-office visit with the same trusted acne dermatologist in Frisco you have come to know and trust, but is available on your schedule.
Feel free to use the convenience of the online visit or make a call to 972-704-2400 to schedule an appointment in the facility.
Acne Dermatologist Frisco
Rodgers Dermatology
972-704-2400
3880 Parkwood Blvd Suite 102 Frisco, TX, 75034
View Larger Map
We welcome your comments!