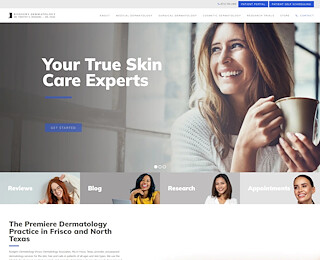 Did you know that a beautiful complexion is just under the surface of your skin? If you desire a more beautiful, brighter, flawless complexion, consider Rodgers Dermatology for treatment. Dr. Timothy Rodgers and his staff perform chemical peels in their Frisco location for patients looking for an improvement from fine lines, wrinkles, acne and accompanying scarring, skin pigment issues and more.
Interestingly enough, new laser treatments that had started to make their way to the forefront of skin improvement are now, in fact, being pushed back as chemical peels are making a huge comeback as the treatment option of choice- and they come with a wide range of benefits clients truly appreciate. Consider a few of the reasons why chemical peels are becoming more popular than ever in the Frisco area:
- Having a chemical peel can help your expensive skin products work better. The benefit comes from allowing the active ingredients in skin care products to reach deeper into the skin where they can do the most good.
- New chemical peels can end acne and greatly improve on the scarring from past acne. If you're among the high percentage of people who suffer with acne, you'll find a chemical peel to be a valuable investment of your time and money- one that can often deliver results when other treatment types are unable to be of help.
- A chemical peel can improve the skin's collagen production which can start to diminish over time. If you're looking for a more youthful, tighter skin appearance, you may achieve it with a chemical peel.
- You can be in and out in less than an hour! Schedule your chemical peel around your time-frame and what works for you to take the fullest advantage of a treatment that requires very little of your time. With a short recover time, you'll be back to work in just a couple of days.
- There are chemical peels in the Frisco clinic to treat all types of skin and all types of conditions. A chemical peel is not a one size fits all approach, in fact, you'll find a wide range of chemicals used depending on the issue being addressed.
Speak with Dr. Rodgers at Rodgers Dermatology about a chemical peel to treat your skin condition. Rodgers Dermatology recommends visiting their website at RodgersDerm.com and using their affordable Online Visit tools to meet with Dr. Rodgers on your own time-frame. Schedule an appointment from the comfort of your own home and allow the Rodgers Dermatology team to diagnose your condition and recommend the right peel.
Just click on Online Visit at the top of the home page to schedule your visit for just $59 and receive online dermatology care when you need it most. If you prefer to come in to the office, schedule your consultation by calling 972-704-2400. You'll love the effect of chemical peels from Frisco's most trusted dermatologist. Keep the visible signs of aging at bay with a chemical peel designed to product younger, more beautiful-looking flawless skin.
Chemical Peels Frisco
Rodgers Dermatology
972-704-2400
3880 Parkwood Blvd Suite 102 Frisco, TX, 75034
View Larger Map
We welcome your comments!