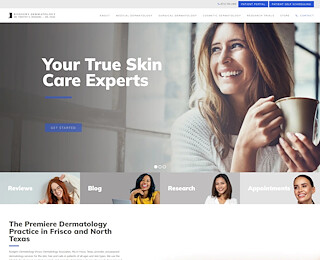 Rodgers Dermatology offers cosmetic dermal fillers to clients in the Frisco location to help replace lost fullness, restore youthful contours in the face and smooth away wrinkles and folds. If you've been wondering what dermal fillers could do to help you achieve your beauty goals, consider visiting RodgersDerm.com.
Cosmetic fillers offer one of the most unique ways to recapture lost fullness and restore your youthful appearance. New products Restylane Ultra, Juvederm Ultra Plus, Restylane and Perlane are composed of a naturally-occurring substance in your skin. The physicians at Rodgers Dermatology will professionally choose the right product for you based on an evaluation.
Dermal fillers are different from Botox in some very important ways. They add volume while smoothing out wrinkles and are used mainly in wrinkles and lines that are not caused by muscle movement, making them different from Botox, which relaxes the muscles that cause lines.
Clients come in for dermal fillers in Frisco most commonly for treatment around the lips, the nasolabial folds between the nose and the corners of the mouth, and the area sometimes referred to as Marionette Lines, or smile lines around the corners of the mouth. There are numerous benefits that are associated with dermal filler treatment, including:
- The greatest benefit, being that of no downtime. Depending on how many areas there are to be treated, a single treatment may require only 10 minutes of a client's time, after which, they may resume any and all types of daily activity, including returning to work immediately following treatment. You may have heard Botox being referred to as the lunchtime facelift, however, dermal fillers are quickly replacing Botox as the quick treatment of choice.
- As we age, our skin loses volume, or fullness, especially around the deep creases that lie between the nose and the upper lip. Dermal fillers are very effective at plumping up this area and smoothing out the lines that form from the loss of volume. Dermal fillers are also commonly used around the edges of the lips, in acne scars or blemishes in the skin to provide a more even surface, under the eyes and in the cheeks.
Since there are numerous dermal fillers available in the Frisco clinic, it's advisable to schedule a consultation at Rodgers Dermatology to determine the best type of filler to meet your needs. Feel free to call the office at 972-704-2400 to book your visit or go online to RodgersDerm.com to fill out the online contact form.
It's now possible to schedule an online visit with Dr. Rodgers at a time that better meets your needs by going to the website and clicking on 'Online Visit' on the top of the home page. You'll love having instant access to the Dermatologist on Call who will see you for the low cost of just $59. Your virtual care visit with Dr. Rodgers will mirror an in-office visit with the same dermatologist you know and trust, but is available on your time-frame.
Find out more about dermal fillers from Rodgers Dermatology in Frisco. Call or go online today to learn more and discover why dermal fillers are becoming the choice among men and women who wish to recapture their youthful appearance.
Dermal Fillers Frisco
Rodgers Dermatology
972-704-2400
3880 Parkwood Blvd Suite 102 Frisco, TX, 75034
View Larger Map
We welcome your comments!