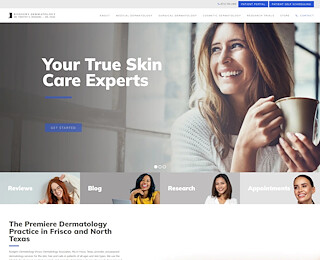 Are you searching for a way to recapture your youthful appearance? There are many treatment options available today. If you're looking for a treatment that will provide fast results, consider the Frisco Botox doctors at Rodgers Dermatology.
Botox has been used since the 1950s to treat a variety of medical conditions and is safe to use for cosmetic treatments. You may have heard the name Botox before and wondered what it can do for you. As a substance that temporarily blocks the signal from nerves to muscles it is a safe and effective way to soften lines and wrinkles in the face.
Clients prefer Botox treatment to many other types of cosmetic procedures because the results are almost immediate, appearing within just a few days of treatment and typically lasting from three to five month. If you'd like to have a glimpse of what you would look like following a visit with the Frisco Botox doctors, go to RodgersDerm.com and check out the Botox Treatment Visualizer Tool. See the results instantly and decide for yourself if Botox is the right treatment for you.
Download the Botox Visualizer for your iPad from the website or read more about what you can expect from a visit to the Frisco Botox doctors, including the following:
- With Botox Cosmetic, you can expect to experience real, noticeable results within 24-48 hours for treatment of moderate to severe frown lines. It's important to understand that results vary from client to client.
- While not a painful procedure, most clients report Botox injections feeling like a pinch.
- Your actual injection time is about 20 minutes.
You can also enjoy a video series from Shape's Executive Beauty Editor, Cheryl Kramer Kaye, who shares her personal Botox Cosmetic experience over a video. If you feel like you're ready to schedule a consultation with the
Frisco Botox Doctors
from Rodgers Dermatology, you may want to consider the 8 most important questions to ask, and bring a list of them along with you to your consultation:
1. Does your dermatology team have the expertise you're looking for? Ask about licenses and training.
2. How long have they been providing Botox Cosmetic Treatment?
3. How often do they perform Botox treatment?
4. Do they offer after-treatment visits to follow-up on your treatment?
5. Does your provider show before and after pictures of real clients?
6. Does your provider talk about the most common side effects?
7. What is recommended if you experience side effects?
8. Is your clinic interested in your medical history? They should be.
Schedule your free consultation with the Frisco Botox Doctors from Rodgers Dermatology by calling 972-704-2400, or go online to RodgersDerm.com to schedule an Online Visit with Dr. Rodgers at a very affordable cost and in a timeframe that works best for you.
You can look and feel younger with quick and painless Botox treatments that take very little time out of your daily schedule. Discover the secrets of Botox Cosmetic for yourself. Book your appointment today.
Rodgers Dermatology
972-704-2400
3880 Parkwood Blvd Suite 102 Frisco, TX, 75034
View Larger Map
We welcome your comments!