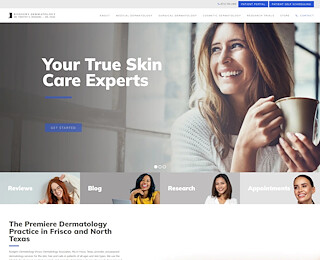 Ready to Address Your Hair Loss? Frisco Med Spa Rodgers Dermatology Can Help:
If you're experiencing hair loss, you may have thought, or may have even been told, there was nothing you could do to reverse the situation or improve the look of your hair. Thankfully, that's not the case. We live in a time when new technology and treatments are making reversal of hair loss a reality.
At Rodgers Dermatology, our staff understands hair loss is a very personal matter and is one that requires sensitivity when discussing options in treatment. If you're looking into your options, there's never been a better time to reach out to our team of experts at Rodgers Dermatology. We offer a unique online experience that can help you obtain a prompt diagnosis of the problem. You can receive online dermatology care from our Dr. Timothy Rodgers for hair loss in Frisco. Once you receive a positive diagnosis, Dr. Rodgers will discuss options for treatment with you.
It starts with scheduling your online visit. Click the convenient 'Online Visit' link on the upper right hand of our website to get started. Our online service costs just $59- and best of all, you can schedule the visit for a time that is convenient to you. Our 'virtual care' mirrors a dermatologist in-office appointment, but is much more convenient, since we make it available when you most need it.
Dr. Rodgers can provide you with a positive diagnosis of hair loss through an online consultation; in fact, he is able to diagnose up to 3,000 skin, hair and nail conditions. Following your appointment, you'll be provided with a personalized treatment plan within 3 business days- most typically, within 24 hours of being seen. You'll be able to pick up any necessary prescriptions at your preferred pharmacy.
If you prefer to come in to our clinic for a personal consultation with our staff, give us a call at 972-704-2400 and we'll be happy to set up your appointment. We treat all major conditions affecting the skin and hair, offering the safest, most advanced techniques for treatment. You can learn more about the conditions that we treat by visiting our website and clicking on the 'Cosmetic' or 'Medical' link.
New PRP treatments are on the cutting edge of addressing hair loss. If you've not yet heard about the positive benefits of Platelet Rich Plasma therapy, we'd like to invite you to check out our blog library to read our informative article entitled 'PRP For Hair Loss'. You may have thought PRP was only effective for wound healing and regrowth of cells, but newer technology is showing great success in its ability to regrow hair.
Both men and women are turning to PRP to address hair thinning and hair loss in Frisco. Find out why PRP is becoming the go-to for patients of all ages dealing with age-related hair loss. Visit us online to learn more about the science behind PRP therapy or schedule an appointment in our facility.
Hair Loss Frisco
Rodgers Dermatology
972-704-2400
3880 Parkwood Blvd Suite 102 Frisco, TX, 75034
View Larger Map
We welcome your comments!