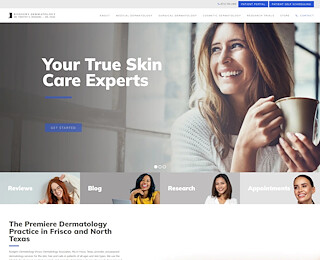 If you've been thinking about permanent hair removal treatment in the Frisco area, consider coming in to Rodgers Dermatology for a free consultation. With today's innovative treatment options you can be free of unwanted hair once and for all- at an affordable cost.
Imagine never having to shave, wax, tweeze or use chemicals again to achieve the beautiful, smooth looking skin you want. It's not a dream- permanent hair removal can be a reality. Frisco clinic Rodgers Dermatology is proud to offer their clients two cutting-edge lasers for hair removal: the LightSheer Duet and the LightSheer Infinity. If you've been giving any thought to laser hair removal, you should know up front that not all treatments offer the same results.
LightSheer laser treatment has been chosen by Rodgers Dermatology because of its effectiveness and safety. In fact, the LightSheer was designed and created specifically for the purpose of permanent hair removal, making it the ideal instrument to use, since it offers the optimal wavelength necessary for the best possible results.
Consider the many benefits of permanent hair removal and you'll gain a better understanding of how affordable it really is. Many clients consider it an investment in their beauty treatment, since hair removal will pay for itself over time. A few of the advantages of laser hair removal include:
- Never having to shave, wax or tweeze again, which is, of course, the major reason why men and women opt for permanent hair removal. The time spent on continuous shaving, waxing and tweezing can easily be understood to be a huge inconvenience. Add up all of the time you spend tending to hair removal throughout your week and you'll be amazed at how much of your day is wasted on these efforts.
- The costs associated with temporary hair removal are staggering. Whether you travel to visit a salon or purchase accessories for your home, in the end, your budget is taking a hit week after week.
- If you're among the group of people who suffer from ingrown hairs, permanent hair removal will eliminate this problem.
- Laser treatment at the hair removal clinic in Frisco is quick and easy. Since a laser can treat an area of skin about an inch in diameter every second, you'll find it is a process that won't take up much of your time.
- A full 90% of clients achieve permanent hair removal after their course of treatment.
Imagine the freedom of never having to worry about unwanted hair again. Are you planning a night out? A weekend away? A day at the pool? An intimate evening? Managing your unwanted hair is something you'll never spend another minute of your time on.
Find out more about affordable, permanent hair removal at Rodgers Dermatology in Frisco by calling 972-704-2400 or go online to RodgersDerm.com, where you can read more about hair removal treatment, enjoy their informative blog or schedule an Online Visit with Dr. Rodgers, right from the comfort of your home.
Hair Removal Frisco
Rodgers Dermatology
972-704-2400
3880 Parkwood Blvd Suite 102 Frisco, TX, 75034
View Larger Map
We welcome your comments!