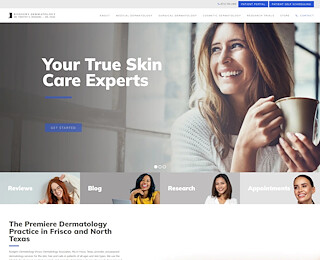 Are you in the process of searching for a qualified laser hair removal facility in Frisco? Why not come to Rodgers Dermatology? Their skilled staff uses all the latest technology to achieve the results their clients are looking for. Rodgers Dermatology offers affordable hair removal treatments to help you look and feel your very best.
You can look and feel healthy and smooth with laser hair removal from one of the most popular Frisco clinics. Now you can be totally free of unwanted hair- once and for all. Say goodbye to painful and expensive tweezing, shaving, waxing and chemical depilatories and experience the freedom that comes from permanent hair removal.
Rodgers Dermatology is proud to be able to offer two of the latest technological advances in laser hair removal: the LightSheer Duet and the LightSheer Infinity. As a client, you have the right to know that not all lasers are created equal, and the lack of quality can result in a variety of effectiveness, safety and pain during and after a session, making for a different experience depending on which office you visit.
At Rodgers Dermatology, they strive to provide the very best for their clients, which is why they offer only the best laser hair removal in Frisco. The LightSheer Duet works best on dark hair growing on light-colored skin, while the Infinity works better for darker skin types. Both types of laser focus laser energy through the skin to disable the hair follicles from producing hair.
Clients absolutely love that treatment time with the LightSheer laser is reduced by up to 75%! This is due to the fact that the ChillTip technology with its vacuum-assist speed up the treatment process- and no anesthesia is typically required. LightSheer can safely remove hair from all parts of the body, including the cheeks, arms, legs, underarms, back and bikini area and is a safe and effective procedure that provides long-lasting and often permanent results.
Laser hair removal with LightSheer in the Frisco office typically provides 80% hair reduction and 20% regrowth of hair that is finer, lighter and thinner. With 4-6 treatments over the span of several months, permanent and total hair removal can be achieved, however this can vary with skin type and hair density.
You can learn more about laser hair removal from Rodgers Dermatology in Frisco by visiting their website at RodgersDerm.com, where you'll find a wealth of information including the opportunity to schedule an affordable online visit with Dr. Rodgers.
If a 'Virtual Visit' would fit your schedule, simply click on the "Online Visit' link at the top of the home page and schedule your own online appointment with Dr. Rodgers at your convenience. Feel free to call the office at 972-704-2400 if you would like to come in to the office for a visit.
Experience the total freedom of never having to shave, wax, pluck or be embarrassed by unwanted hair ever again, with laser hair removal in Frisco location Rodgers Dermatology. 
Laser Hair Removal Frisco
Rodgers Dermatology
972-704-2400
3880 Parkwood Blvd Suite 102 Frisco, TX, 75034
View Larger Map
We welcome your comments!