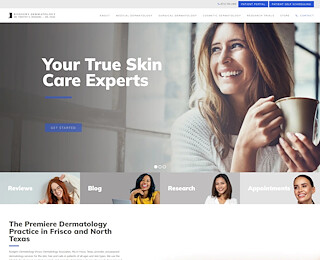 Rodgers Dermatology offers professional laser skin resurfacing in their Frisco Clinic. If you're looking for an affordable treatment for rosacea, sunspots, freckles, broken veins or other blemishes, consider the most trusted dermatologist in Frisco.
IPL laser treatment can correct a variety of benign skin conditions; IPL is not a true laser but rather a broad spectrum of light that effectively treats a wide range of skin conditions, helping patients achieve healthy, beautiful-looking skin.
Clients who opt for a chemical peel typically experience dramatic results that can last from 1-5 years, depending on the individual and the type of follow-up treatment they provide to their skin, such as topical creams to keep the skin soft and supple. You may be surprised to learn about all of the benefits associated with having a laser skin resurfacing treatment in the Frisco clinic. Consider a few of the following, and then call Rodgers Dermatology:
- As an outpatient procedure, laser skin resurfacing is very convenient for the client as they are typically not required to outstay their procedure. Treatment can take from 30 minute to a couple of hours, depending on the size of area to be resurfaced.
- Laser skin resurfacing is known to come with a shorter recovery time than other similar procedures. After the initial 24 hours following the procedure, the client is advised to clean the treated area and cover it with petroleum jelly to prevent a scab from forming. Recovery can be somewhat itchy, but it typically not painful.
- Upon healing, clients will notice a vast improvement in the skin's texture. While most clients will achieve the results they're looking for after a single treatment, some clients will opt for a second treatment to improve on deeper facial imperfections.
- Wrinkles and fine lines can be greatly reduced and often eliminated through laser resurfacing that smooths out and tightens the face's skin. This is a treatment that can truly turn back the hands of time.
- Acne scarring is often the target of laser skin resurfacing that removes the surface layers of skin with its indentations. For deep scarring, a second treatment is sometimes necessary, however clients achieve long-lasting results through this treatment.
- Sun damage skin can be improved with laser resurfacing, allowing a brighter, smoother fresh layer of skin to emerge. Unlike other treatments, laser resurfacing will not cause further damage to the skin.
- Clients often opt for laser skin resurfacing in the Frisco clinic simply because they desire a brighter complexion. Tired and dull-looking skin will look refreshed and rejuvenated after laser resurfacing.
The promise of obtaining brand new skin can be a reality for you with laser resurfacing. If you have questions about this treatment or wish to inquire as to whether you are a good candidate, feel free to use the DermatologistOnCall at Rodgers Dermatology by going online to RodgersDerm.com and scheduling an online visit with Dr. Rodgers.
To schedule a consultation in the Frisco location, please call 972-704-2400. If you're searching for a clinic that will take your concerns seriously, Rodgers Dermatology welcomes your call.
Laser Skin Resurfacing Frisco
Rodgers Dermatology
972-704-2400
3880 Parkwood Blvd Suite 102 Frisco, TX, 75034
View Larger Map
We welcome your comments!