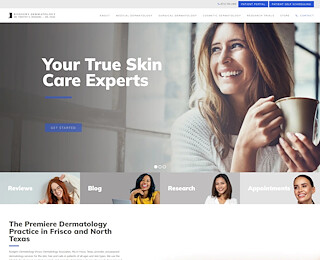 Rodgers Dermatology offers affordable laser skin tightening treatment in Frisco for clients searching for alternatives to surgery and other invasive treatments. If you've been looking around at treatment choices, consider coming in to Rodgers Dermatology to discuss your options.
Rodgers Dermatology offers one of the most sought-after treatments available today- PicoSure Skin Treatments, one of the quickest and easiest non-surgical, non-invasive ways to achieve a more youthful appearance. Often used for tattoo removal, PicoSure is able to treat many different areas of the body including the chest, face, hands, legs and more. Patients experience tremendous results for the treatment of acne scars, pigmented lesions and wrinkles, all with PicoSure.
Of course, it's very important to consider all of the options available to you for laser skin tightening in Frisco; feel free to call Rodgers Dermatology at 972-704-2400 to schedule a free consultation with Dr. Rodgers and his staff to determine the right treatment plan for your personal goals.
Patients often consider face lifts, fillers and toxins to be 'last resort' treatments, since they are associated with a significant amount of downtime, risks and side-effects. If these are concerns of yours, consider PicoSure treatment to help you achieve a more youthful appearance. To get started, fill out the online contact form at RodgersDerm.com or make a call to 972-704-2400 to schedule your consultation.
Laser skin tightening in frisco is becoming more and more popular due to the numerous benefits that come with treatment. If you're wondering what it can do for you, consider a few of the advantages associated with laser skin tightening:
- If you have mild to moderate look skin on your face or residual skin laxity after an operative procedure, you can expect to achieve favorable results with laser skin tightening at Frisco's Rodgers Dermatology.
- If you'd like to see an improvement in the quality of your skin and are not interested in undergoing a more invasive procedure, laser skin tightening would be a good option for you.
- Laser skin tightening is performed with no incisions, very little discomfort and practically no downtime- all exceptional benefits.
- Perhaps one of the greatest advantages is that laser skin tightening can be used for all skin types, so there is no 'patch' testing that is required.
Rodgers Dermatology is proud to be able to offer the acclaimed non-surgical lifting procedure called Ultherapy for laser skin tightening in Frisco. As the only FDA-cleared non-invasive treatment for lifting the skin on the neck, chin and brow, it is also the only non-invasive treatment specifically designed to target lines and wrinkles on the décolletage.
Using focused ultrasound, Ultherapy stimulates collaged deep within the skin, with no downtime, resulting in tighter, better fitting skin from the brow to the chest- naturally!
For more information about Ultherapy laser skin tightening treatment at Rodgers Dermatology in frisco, please call 972-704-2400 to schedule a free consultation or visit RodgersDerm.com to book an appointment.
Laser Skin Tightening Frisco
Rodgers Dermatology
972-704-2400
3880 Parkwood Blvd Suite 102 Frisco, TX, 75034
View Larger Map
We welcome your comments!