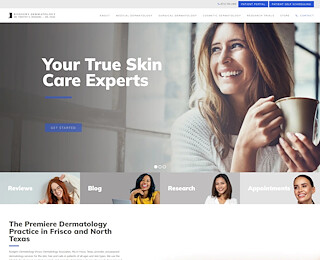 Are you thinking about visiting a microdermabrasion clinic in Frisco? Consider Rodgers Dermatology for your treatment. Dr. Rodgers from the clinic was awarded one of the Best Doctors of Collin County in 2011 by D Magazine, along with several other awards, including the Award for Excellence and Most Compassionate Doctor.
Microdermabrasion is a process that exfoliates the dead skin from the surface of your skin, removing the outermost layer and revealing new skin cells underneath that are soft and smooth. Rodgers Dermatology uses microdermabrasion in their Frisco location to treat acne, blackheads & whiteheads, fine lines, wrinkles, sun-damaged skin, superficial age spots, hyper-pigmentation, oily skin, dry skin and patchy skin.
Treating with a series of 5 treatments every 1-2 weeks with microdermabrasion is typically recommended at the start, followed by monthly treatments that will maintain the results. There are numerous benefits associated with having microdermabrasion treatment, including the following:
- Clients find that microdermabrasion is a skin treatment that can truly fit their schedule, since there is no preparation necessary and can be used immediately on the skin when the client comes in the office, it is not time-consuming in any way.
- Of course, the instant results that microdermabrasion delivers makes it one of the most popular treatments available. The moment you walk out of the clinic, you'll feel the difference in your skin and you'll notice the difference as well. As the normal color returns to your skin after an hour or two, you'll simply love the results!
- If you're looking around for a treatment that offers fast results with absolutely no pain, microdermabrasion would be the right pick for you. There are numerous treatments available today for the skin, but few of them that come with the promise of no pain. You may even enjoy the exfoliating process as many clients consider it an invigorating experience.
- Another great benefit to microdermabrasion is that it can safely be used on all skin types- something not many skin treatments can tout. There is no 'patch; testing to see whether your skin will perform well under microdermabrasion. The Frisco clinic offers this treatment to clients with all skin types.
- If you're using expensive products on your skin, you'll love how consistent microdermabrasion will maximize your investment on high-quality products. A microdermabrasion facial will allow greater absorption of your skin products- something you can really feel good about.
If you'd like to make a connection with Rodgers Dermatology, visit their website at RodgersDerm.com and fill out the contact form online or make a call to 972-704-2400 if you'd like to schedule a session for microdermabrasion in the Frisco location. Feel free to enjoy the online blog that is filled with interesting articles that are designed to help you achieve healthy, beautiful skin.
If you'd like to take advantage of an affordable online visit with Dr. Rodgers, simply click on 'Online Visit' at the top of the home page and get started right now. Dr. Rodgers and his staff look forward to speaking with you.
Microdermabrasion Frisco
Rodgers Dermatology
972-704-2400
3880 Parkwood Blvd Suite 102 Frisco, TX, 75034
View Larger Map
We welcome your comments!