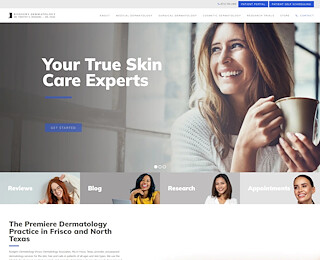 Are you searching for a facility that provides Ohs Surgery in Frisco? Consider Rodgers Dermatology, where you'll find the services you're looking for at the hands of the most competent dermatologist in Frisco.
Mohs Surgery is most often understood to be the surgical removal of skin cancer and other appropriately-indicated malignancies, immediately followed by an examination on a microscopic level to ensure that the complete removal of the malignant tissue has resulted. The skin's layers are removed, one at a time, and then examined under a microscope  to detect the presence of cancer cells.
Mohs Surgery has been officially accepted as one of the most effective techniques for removing basal cell and squamous cell carcinoma. Thanks to new technology, it is also a fairly unobtrusive procedure. There are numerous advantages to undergoing Mohs Surgery at Rodgers Dermatology in Frisco, including:
- New mapping techniques allow the Mohs surgeon to pinpoint minute areas that would otherwise be invisible to the naked eye, meaning even the very tiniest of cancer root can be removed. Two of the biggest advantages include the removal of the smallest amount of healthy skin as possible, and the highest possibility of curing the cancer.
- Eliminating all of the cancer with a single procedure is definitely on elf the advantages of having Mohs Surgery in Frisco and helps to improve the chances of quick recover, reducing the needs for additional treatment.
- While Mohs Surgery can be a lengthy procedure, it's important to look at it in a 'big picture' way. The typical Mohs Surgery can take from a few hours to all-day, however, once it is completed, the healing process can begin.
Prospective patients may be interested din learning more about the Mohs procedure, in which case, feel free to contact Rodgers Dermatology by filling out an online contact form at RodgersDerm.com, by calling the facility at 972-704-2400, or by sending an email to info@RodgersDerm.com. You'll find their website to be a fabulous resource for anyone looking at Mohs Surgery.
Rodgers Dermatology would like to remind their patients that Friday is Don't Fry Day. Protect your beautiful skin from the damaging effects of the sun's harmful rays by wearing appropriate sun-screen, sun-filtering clothing, and simply staying out of the sun whenever possible, especially during the most dangerous hours of the day: typically 10 am to 3 pm. Your skin will thank you for it and reward you down the road.
Rodgers Dermatology is committed to providing every patient with the highest quality care, promoting healthy and beautiful skin. As such, they look forward to helping you achieve your goals. Whether you have questions about Mohs Surgery in Frisco, concerns about a skin condition or would like to schedule an appointment, feel free to contact Rodgers Dermatology at your convenience.
Start with a virtual consultation on the website at RodgersDerm.com. Simple enter your contact information to start your personalized consultation. Use the online model to express your cosmetic or medical concerns and desired procedures. Add your concerns and any desired procedures to the model and request a call back from a specialist. You'll find the virtual consultation is a great way to start your communication with Rodgers Dermatology.
Mohs Surgery Frisco
Rodgers Dermatology
972-704-2400
3880 Parkwood Blvd Suite 102 Frisco, TX, 75034
View Larger Map
We welcome your comments!