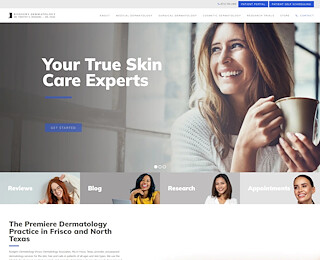 Finding the right skin cancer dermatologist in Frisco can be challenging, however, with a bit of research you can locate one with a reputation within the community of providing exceptional care. Frisco locals have come to rely on Rodgers Dermatology for a wide range of reasons that include a high level of professional care, and a staff that strives to meet the needs of every patient.
Top among the reasons why patients love the skin cancer dermatologist in Frisco is due to the facility offering convenient 'virtual care' visits online, without having to come in to the office to see Dr. Rodgers. Online visits are very affordable and best of all, patients can schedule them to fit their own time-frame. If you're looking for a skin cancer dermatologist in Frisco, consider the benefits of scheduling an online visit on RodgersDerm.com:
- Dr. Rodgers can diagnose over 3,000 skin, hair and nail conditions through the online dermatology care over the website. The most common conditions he sees are acne, suspicious moles, rosacea, eczema and psoriasis.
- An online visit costs just $59, which includes the diagnosis, personalized treatment plan and, if applicable, prescription routing to your preferred pharmacist.
- While there are certain insurance plans that cover online care, not all of them do. If your plan is not accepted, feel free to use any major credit card, or use the convenient forms provided to submit for your HSA, HRA or FSA.
- You can expect to receive a diagnosis in 3 business days, and often much sooner- typically within 24 hours. You can receive counseling from the skin cancer dermatologist in Frisco for up to 30 days concerning the diagnosis and treatment for a single condition.
- If Dr. Rodgers determines that you need an in-office procedure, simply contact the staff by phone at 972-704-2400 to schedule an appointment as soon as possible. The initial $59 does not cover additional office visits.
There are many advantages of visiting a board-certified dermatologist online. Rest assured your visit is 100% HIPAA and HITECH compliant through DermatologistOnCall.
Dr. Rodgers is highly skilled in diagnosing and treating skin cancer; in fact, you couldn't be in better hands. Not only has he received several awards for excellence in the field of dermatology, he remains dedicated to providing the highest level of patient care to each and every person he treats.  Patients appreciate that Dr. Rodgers has been awarded the Most Compassionate Doctor in 2010, and D Magazine's Best Doctors of Collin County 2011, along with America's Top Dermatologist 2011.
As a skin cancer dermatologist in Frisco, Dr. Rodgers offers compassionate, experienced, skilled removal of cancerous cells and professional prevention of their return. Find out more when you visit RodgersDerm.com or call the office at 972-704-2400 for more information. Schedule your appointment over the phone or via the Online Visit form located on the website.
You'll never regret visiting the most dedicated skin cancer dermatologist in Frisco. Dr. Rodgers and his team await your call.
Skin Cancer Dermatologist Frisco
Rodgers Dermatology
972-704-2400
3880 Parkwood Blvd Suite 102 Frisco, TX, 75034
View Larger Map
We welcome your comments!