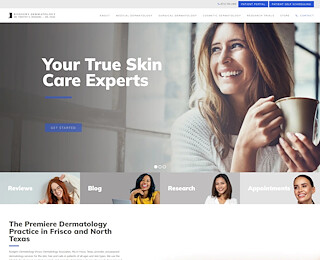 Finding the right dermatologist to perform your skin cancer removal in Frisco can take a lot of research and time. Be sure to find out as much information as possible and settle on a facility that has a reputation in the local community for excellence. At Rodgers Dermatology, Dr. Tim Rodgers is known to provide individualized skin care to his patients. As the founder of Rodgers Dermatology, he will have your best interest at heart from the moment you walk through the doors.
Rodgers Dermatology has the compassion, expertise and experience you're looking for when it comes to removing cancerous cells and helping prevent them from coming back. One in five Americans will develop skin cancer at some point in their lives as it is the most common form of human cancer. If caught early, there is a high likelihood that it can be cured.
The most common form of skin cancer is Basal Cell Carcinoma. Overexposure to UVB radiation can damage the body's natural repair system, causing basal cell carcinomas to grow. They are typically slow-growing and rarely spread; Basal Cell Carcinoma presents in the following manner:
- Raised pink or pearly white bump with a pearly edge and small, visible blood vessels
- Pigmented bumps that look like moles with a pearly edge
- A sore that continuously heals and re-opens
- Flat scaly scar with a waxy appearance and blurred edges
Although they all tend to look a bit different, one thing they have in common is that they tend to bleed with little or no cause. 85% of Basal Cell Carcinomas are present on the face and neck where sun exposure is the highest. You have risk factors for Basal Cell Carcinoma if you have fair skin, have been over-exposed to the sun, are over 50 years of age, have had exposure to UV radiation, such as tanning beds would provide, or have had therapeutic radiation to treat a health issue in the past.
Skin cancer removal at Frisco facility Rodgers Dermatology starts with a phone call to the skin care clinic at 972-704-2400 or by going online to rodgerserm.com for a convenient and very affordable online visit with Dr. Rodgers. Virtual care with Dr. Rodgers mirrors an in-office appointment with the same dermatologist you have come to trust, but is available at your convenience, when you need it most.
If you are considering skin cancer removal in Frisco but don't have time to schedule a visit and come in to the office, you can greatly benefit from an online dermatology visit in the following ways:
- Visit a board-certified dermatologist online and on your own time
- Set up the visit yourself
- Get a personalized treatment plan in 3 business days, and often even sooner- typically within 24 hours.
- Quickly pick up your prescriptions at your own pharmacy
Start your visit online or schedule a visit in the office, whichever way you prefer. You'll find all of the information you need to contact Rodgers Dermatology when you go online to RodgersDerm.com.
Skin Cancer Removal Frisco
Rodgers Dermatology
972-704-2400
3880 Parkwood Blvd Suite 102 Frisco, TX, 75034
View Larger Map
We welcome your comments!