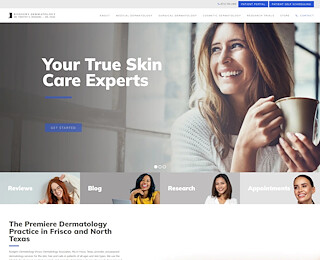 Are you searching for a skin clinic in the Frisco area that offers cosmetic and medical treatments that are affordable and effective? Consider Rodgers Dermatology. Their philosophy is steeped in the art of nourishing, healing and maintaining their patients' skin for optimal beauty that lasts.
The fact is, if you've been looking around to find a skin clinic that offers the kind of treatments you want, you couldn't find one that is more dedicated to the health of your skin than Rodgers Dermatology in Frisco. Dr. Rodgers has devoted his practice to the diagnosis and treatment of skin problems and to the improvement of the skin's appearance through cosmetic procedures and lasers.
Clients love being able to schedule an online visit with Dr. Rodgers right in the comfort of their own homes through the 'Online Visit' link located on the home page of RodgersDerm.com. The virtual care visit mirrors an in-office visit appointment with the same dermatologist you already know and trust, but makes it possible when you don't have time for an in-office visit.
For only $59, you can receive online dermatology care from Dr. Rodgers through their DermatologistOnCall. Through an online visit, Dr. Rodgers is able to diagnose over 3,000 skin, hair and nail conditions. The most common conditions seen through Online Visits are acne, suspicious moles, rosacea, eczema and psoriasis. Your $59 will include the diagnosis, personalized treatment plan and prescription routing to your preferred pharmacy, if applicable.
Feel free to schedule a free consultation at the skin clinic in Frisco for cosmetic dermatology or medical dermatology. Rodgers Dermatology offers:
Cosmetic:
- miraDry for unwanted sweating
- Ultherapy for tightening of the jawline and neck
- Microdermabrasion for acne, dull complexion, and enlarged pores
- Chemical peels for sun spots, acne, and melasma
- Botox & Dysport for fine lines and wrinkles
- Juvederm for lip augmentation and deeper lines
- Sculptra & Voluma: to replace volume loss in the cheeks and temples
- Tattoo removal
- Resurfacing for acne scars and a smoother complexion
- IPL & Picofacial for sunspots and dyspigmentation
- Sclerotherapy for unsightly spider veins
- And more!
Medical:
- Acne
- Rosacea
- Head Lice
- Rashes
- Eczema (Dermatitis)
- Lumps, Bumps, and Cysts
- Psoriasis
- Blisters
- Vitiligo
- Pruritus
- Poison Ivy, Poison Oak, Poison Sumac
- Lichen Simplex Chronicus
- Scleroderma
- Keratosis Pilaris
- Hives (Urticaria)
- Hidradenitis Suppurativa
- Wrinkles
- Birthmarks/Pigmented Skin
You'll find the skin clinic in Frisco is committed to helping you achieve healthy, beautiful-looking skin using the safest, most innovative methods available. Led by Dr. Rodgers, the team at Rodgers Dermatology proudly serves the entire Frisco, McKinney, Plano, Allen, Dallas, Little Elm, and surrounding areas.
Rodgers Dermatology is dedicated to helping you look and feel your best by tailoring a treatment plan to suit your unique needs and requests. By offering a full-range of medical, cosmetic and surgical services, Dr. Rodgers is able to treat patients of all ages and accepts most insurance plans.
Schedule your free consultation at Rodgers Dermatology by calling 972-704-2400 or go online to RodgersDerm.com to fill out the online form. Someone from Rodgers Dermatology will be in touch shortly.
Skin Clinic Frisco
Rodgers Dermatology
972-704-2400
3880 Parkwood Blvd Suite 102 Frisco, TX, 75034
View Larger Map
We welcome your comments!