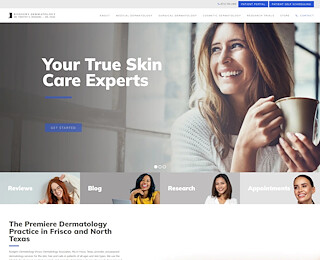 How Rodgers Dermatology Can Help Improve the Appearance of Spider Veins in Frisco:
It surprises a lot of people to learn that millions of men and women suffer with spider veins. If you're currently looking at your options for affordable treatment of spider veins in Frisco, consider giving our office a call at Rodgers Dermatology to find out what types of treatments are available. You don't have to deal with the appearance of spider veins, thanks to new safe and effective treatments that are cost-effective.
Discover the many benefits of treating your spider veins at Frisco area's most trusted MedSpa, Rodgers Dermatology:
#1: Cutting-edge treatments are minimally invasive, require no hospitalization or general anesthesia, and come with virtually no down time. If you've been thinking about seeing someone about your spider veins, give us a call at 972-704-2400 and we'll schedule a consultation with you in our office to discuss your goals with our staff.
#2: Today's treatments are much safer than those of a decade ago. Side effects typically disappear within a few days and may last only as long as a few weeks. If you want to learn more about the effects of having your spider veins treated, you'll find a wealth of information available on our website at RodgersDerm.com.
#3: Preparing for the treatment couldn't be any easier. Shave the area or apply lotion prior to your visit, wear loose clothing, like a pair of comfortable shorts, and arrive to your appointment at the intended time. Feel free to schedule a consultation with our staff to find out what you can expect during your treatment. We're happy to address your questions or concerns.
#4: Treatment for spider veins at Frisco Rodgers Dermatology typically lasts less than one hour, with patients reporting little or no pain whatsoever during treatment. Out-dated treatment methods were painful and time-consuming, however with new technology comes better treatment methods.
#5: If you've started wearing long pants to hide spider veins or are using heavy cosmetics to keep others from noticing veins, there's a treatment available today that can allow you to wear the clothing you feel comfortable in without worrying about what other people think. Spider vein treatment will greatly improve your self confidence, and it comes at a very affordable cost!
You can resume all of the outdoor activities you've been avoiding, like swimming, hiking or walking, or other enjoyable activities that may have taken a backseat due to worrying that others would see your spider veins. Frisco area's most trusted MedSpa can improve the appearance of your skin and eliminate vein inflammation and tenderness due to spider veins. It starts with a single phone call to our office to book a consultation to determine whether you're a candidate for treatment. We offer a range of options to ensure we are able to assist every patient who comes to us for treatment. Trust us to clear unsightly, unwanted veins in our facility.
Spider Veins Frisco
Rodgers Dermatology
972-704-2400
3880 Parkwood Blvd Suite 102 Frisco, TX, 75034
View Larger Map
We welcome your comments!