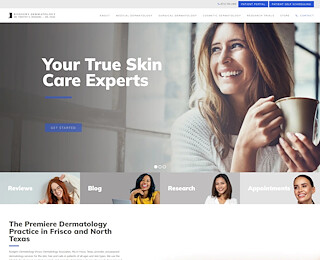 Clients considering spider veins removal in the Frisco area call on the most trusted dermatologist in the area for safe and effective treatment. Spider and varicose veins are a cosmetic problem for millions of men and women in the US. Affordable treatment is available to address this common issue.
While the cause of spider veins is not yet completely known, it has been proven that they run in families, affecting both men and women. Physicians at Rodgers Dermatology use a variety of treatment options to treat spider veins. Depending on the results of an individual's evaluation, one form of treatment may provide greater benefits than another.
Yesterday's painful, outdated vein stripping procedure has long since been replaced with innovative new treatments such as laser spider veins removal. Frisco clinic Rodgers Dermatology offers painless laser spider vein treatment in their location that offers a wealth of benefits, including the following:
- There's no substitute to feeling great about the way you look. Having your spider veins removed will allow you to start wearing all of your favorite clothing again. If you've gotten used to applying a concealer during times when you wear a dress, skirt or shorts, you'll love the freedom of never having to spend time applying make-up again.
- While spider veins are not typically painful, some clients do mention that they cause discomfort or pain for them. In cases such as these, an ultrasound treatment can identify problem veins so that they are removed, instead of simply focusing on the ones that may be unsightly.
- Spider veins are associated with Restless Leg Syndrome, a condition that causes the sufferer to lie awake at night, sometimes for hours, shaking or moving their legs around to reduce pain or arrive at a comfortable position. Restless Leg Syndrome can cause the person suffering with the syndrome to lose hours of sleep every night, resulting in a reduced quality of alertness the following day. Treatment for spider veins removal in the Frisco Clinic can help you get a better night's sleep.
- If spider veins are keeping you from getting around to the degree you would like, speak with Dr. Rodgers about spider veins removal to find out how it can improve your mobility. Being treated for spider veins can eliminate the source of swelling that is holding you back from enjoying life in the way you may feel you should be able to.
- It's highly possible that your health insurance may pay for the cost of your spider veins removal treatment in Frisco's Rodgers Dermatology. If you're dealing with insomnia, swelling or pain associated with spider veins, your treatment may well fall under a medically necessary procedure.
Call Rodgers Dermatology to find out more about spider veins removal in their Frisco location. If you're among the 80% of the US population that suffers with spider veins, you can find immediate relief from the cosmetic issues they present, along with improving your quality of life. To schedule your consultation, call 972-704-2400 today.
Spider Veins Removal Frisco
Rodgers Dermatology
972-704-2400
3880 Parkwood Blvd Suite 102 Frisco, TX, 75034
View Larger Map
We welcome your comments!