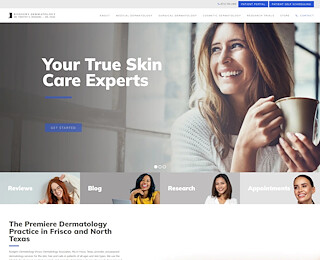 Why More Patients Are Choosing Ultherapy in Frisco:
If you're looking for a treatment that can improve the look of aging skin, you're probably aware there are numerous options available to you. It can seem like a huge challenge trying to select the one that's right fo your skin type and condition. Our staff at Rodgers Dermatology will be happy to discuss your objectives with you and recommend a treatment that's right for you.
New Ultherapy treatment is making huge gains in providing patients with results without the negative effects that come with surgery. If you haven't yet heard about Ultherapy, you'll want to take a few minutes to learn why it's considered one of the leading-edge treatments of our time. Ultherapy uses Ultrasound technology to provide the lifting benefits patients have previously had to undergo surgery for, and can be used to lift the skin on the neck, chin and brow. As the only non-invasive treatment that has been FDA-cleared to improve the look of fine lines and wrinkles, Ultherapy is quickly becoming one of the most popular treatments available today.
Focused ultrasound stimulates the collagen deep within the skin, delivering exceptional results with zero down time. You'll see tighter, better-fitting skin following treatment- and others will notice as well. Ultherapy in Frisco is the only cosmetic procedure on the market today using virtually painless, non-invasive Ultrasound to target the visible effects of aging.
If you've been thinking about surgery to restore the youthful appearance of your skin but are worried about the negative effects that come with surgery, like scarring, pain, down time, and possible negative effects, consider discussing your goals with our staff at Rodgers Dermatology. If you're a candidate for Ultherapy, you may experience many of the same benefits that surgery would provide. For patients who have undergone cosmetic surgery, Ultherapy can even extend the positive effects that came with surgery.
While traditional laser treatments are not truly painless and often leave scarring, Ultherapy uses virtually painless Ultrasound technology that is able to penetrate deeper into the skin, leaving absolutely no scarring. Your face and neck treatment will typically last from 60-90 minutes, or if you opt for a chest treatment, the session will run about 30 minutes.
You'll see some immediate benefits through Ultherapy, however the ultimate results will take place over a 2-3 month period as your body begins to naturally regenerate collagen. If you're like most of our patients, you'll need only a single Ultherapy treatment to get the results you want. Should you decide that you want additional benefit from the treatment, a second Ultherapy appointment can be made for you.
If you're experiencing mild to moderate skin laxity, you may be a candidate for Ultherapy in Frisco. To schedule a consultation with our staff from Rodgers Dermatology, please call us at 972-704-2400 or connect with us over our website. You can read more about the benefits of Ultherapy by clicking on the 'Cosmetic' link on our website.
Ultherapy Frisco
Rodgers Dermatology
972-704-2400
3880 Parkwood Blvd Suite 102 Frisco, TX, 75034
View Larger Map
We welcome your comments!